August 17-19….The Bob Haushalter Memorial Rendezvous
event will held at
Forest Grove
Our next shoot will be:

Sunday, August 26, 2018
11:00 AM - till ?
August 26th is our 8th shoot of the year, i hope the weather holds up NO RAIN!!!!!!!!!!! please NO RAIN , lets all hope the weatherman does his no rain dance and jump around and blow his whisle. Shooting starts at 11:00 on the hillside, lunch will be served and 25yd match after awards and raffle. I hope some CLUB members showup to see what a good time we have down there. Ii also hope we have club members make a showing at Forest Grove this week end for their camp over the 16th - 19th. these guys do it right. Maybe i'll see ya next Sunday............yip
A special thanks to Mike and Robert for all the work they do at PowderPatch andBall, these guys put a lot of work to keep the sport going. i wish i could help em but! so give these guys a big thanks when you meet them they deserve it............yip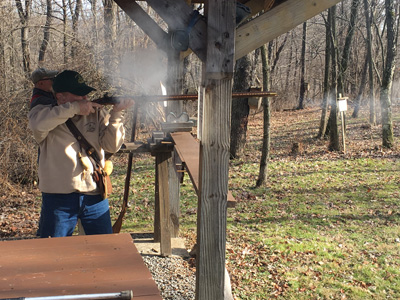 $10.00 entry Fee
Trailwalk Shoot
Prizes offered to the top shooters
Lots of fun...come on down and bring your friends along!
It'll be fun shootin', jawin' with friends and eatin' good food, Right?
Hell's Fire, come on down even if'n you don't wants ta shoot. Just have some fun.
Period Dress is encouraged but not required


home - about our shoots - next shoot - last month - schedule - range rules - members - messages - links - directions - contact us