Our next shoot will be:
Sunday, February 28 at 11:00 AM


COVID 19 RESTRICTIONS
CLAIRTON SPORTSMEN'S CLUB
From the President & Management Team:
UPDATE ON GOVERNOR WOLF'S ORDER MANDATING LIMITED TIME COVID-19 MITIGATION MEASURES:
Effective Saturday, December 12th , and continuing to Monday, January 4th at 8:00 am, the following mitigation measures have been mandated:

OUTDOORS: Masks are required outdoors with others who are not members of a person's household and unable to maintain sustained physical distance. This applies anywhere on CLUB property. Teams are limited to 4 people.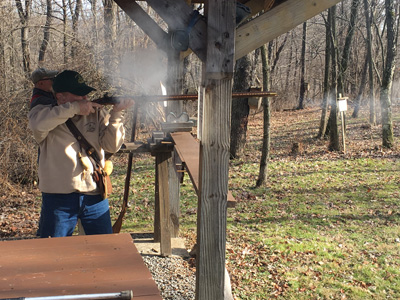 $10.00 entry Fee
Trailwalk Shoot
Prizes offered to the top shooters
Lots of fun...come on down and bring your friends along!
It'll be fun shootin', jawin' with friends and eatin' good food, Right?
Hell's Fire, come on down even if'n you don't wants ta shoot. Just have some fun.
Period Dress is encouraged but not required


home - about our shoots - next shoot - last month - schedule - range rules - members - messages - links - directions - contact us